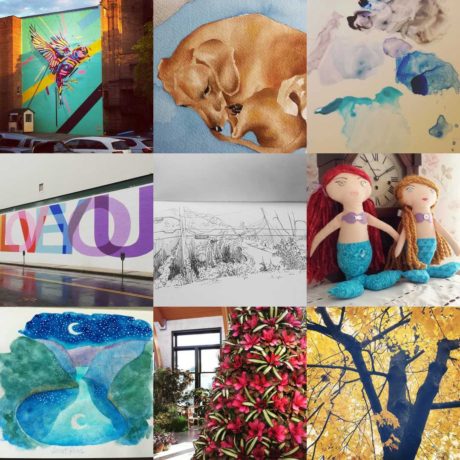 While 2016 may have been negative in terms of events in the news and celebrity deaths, it was an amazing and eventful year for me personally. Here is a recap of some of the things that I have accomplished:
Art Achievements
My most productive art making months were July and August. During these months, my schedule was the lightest and I felt an urgency to make as much art as I could before school started.
My biggest creative inspiration in 2016 was Tower Hill Botanic Garden. I am still overflowing with ideas and you will definitely see more of Tower Hill in my art in 2017.
I published 35 blog posts over the course of the year, which doesn't meet my goal of one post a week. I am okay with that though, because I made a lot of artwork that I didn't post (stay tuned in 2017).
I published 52 posts to Instagram over the course of 2016.
For six weeks in the beginning of the year, I participated in the online Sketchbook Skool course, Expressing. You can read my review of the kourse here.
I participated in the Twitter Art Exhibit, held in NYC in March.
I decorated and mailed a blank postcard to Greenfield Community College for a show of Mail Art.
I completed a commissioned watercolor landscape painting for the album cover of Robert Louis' debut Christmas album.
I completed my red moleskine sketchbook and started a new moleskine, which is in progress.
I experimented with Photoshop and learned how to make animated GIFs to feature my artwork.
Crafty pursuits included making two hand-sewn mermaid dolls and an advent calendar for my daughter.
Personal Achievements
I finished the prerequisites for the nursing program I am attending, started nursing school in September, and completed the first semester.
Thank you to all who visited me online during this past year, left comments, or sent encouraging emails. I am so grateful for the support of kindred spirits!
I will be back on Sunday with my goals for 2017.