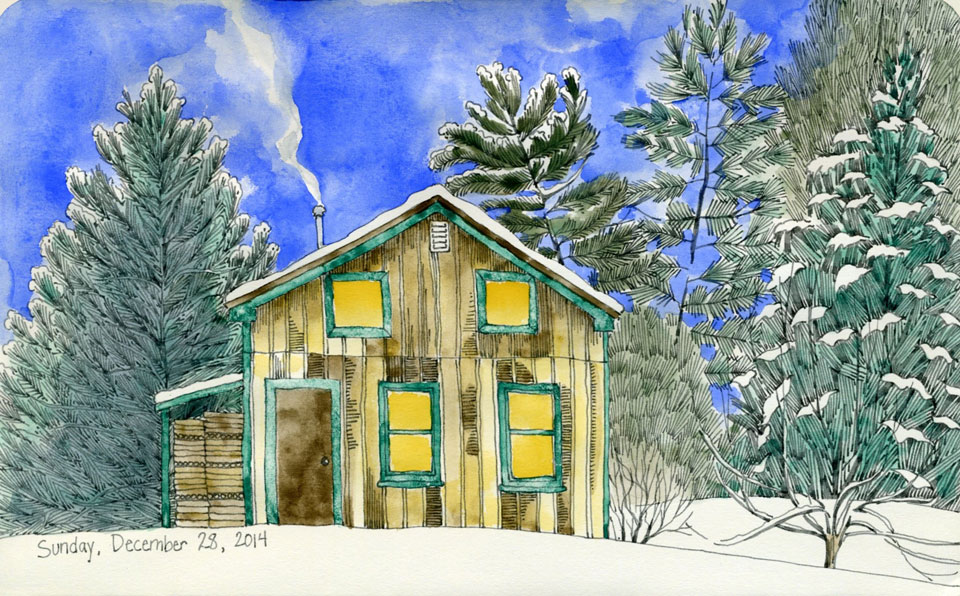 Around this time I like to look back on the past year and assess what I've accomplished. 2014 was a quiet year in terms of my artwork as I didn't get much done; however, it was a big year for me personally.
My formal goals for 2014 were to send a custom Christmas card featuring my artwork (I did this), to work in colored pencil on wood (I tried this and it failed miserably), to exhibit some artwork (this went onto the back burner – maybe next year?) and to remake my website (done).
Here are some of the other highlights of my year:
In March, I rented a house and moved out four months while renovations were being completed. The work is now finished and I have moved back in and enjoy an insulated, heated and air conditioned space with beautiful hardwood floors.
In September, I changed jobs. I am excited about my new opportunity (and my work hours and commute are much better for me).
I participated in an open studio/painting group led by an artist who goes to my church. It was a good opportunity for me to meet some other artists and make some friends.
I left the Colored Pencil Society of America District Chapter 112. The group's participants were too spread out across the New England states leading to an inactive group. I was nervous about quitting, but I felt much lighter afterwards.
I joined a gym and hired a personal trainer. The trainer was worth it for me because I learned so many new exercises and techniques.
I took an online class (MOOC), The History of Boston, which I thoroughly enjoyed. I studied history in college, but I did this for fun and ended up learning quite a bit of Boston trivia. The class was easy (no homework or papers), but it was a time commitment to listen to all the lectures.
2015 will bring big changes for me too – stay tuned. Next time I will post about my goals for the new year.
I am wishing all of my readers a wonderful 2015 – I hope it is a turning point year for you.