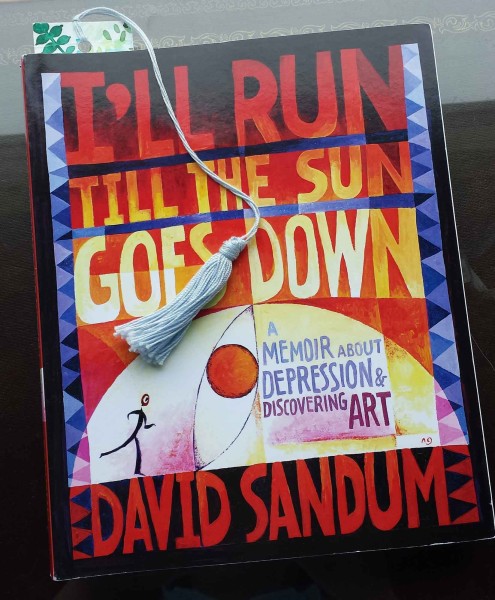 This past weekend I've been reading this book nonstop (instead of studying microbiology). I have been online friends with David Sandum for a few years now, but I really feel like I know him so much better after reading his new memoir about overcoming depression and anxiety through art. I pre-ordered it months ago and it showed up in my mailbox last week and I was so excited.
Every chapter starts off with an excerpt from David's journal from that particular time in his life. I love that the chapters are short and sweet, making the book easy to pick up and put down. Also, David tells his story in such an easy, conversational way that it really feels like you are sitting down and having a little chat.
I could really relate to David's struggle with finding traditional corporate jobs unmanageable, and struggling with the pressure of supporting a family when he couldn't seem to "get his act together." After years of battling crippling depression and anxiety, David finally found his place in the world when he discovered art and it gave him an outlet and a sense of purpose. Unlike so many biographies of artists which can have sad endings, I really found it inspiring to know that today David is a successful, full time artist with a loving family.
The biggest takeaways I had after reading this book are the value of maintaining strong friendships and the importance of sheer determination when facing obstacles. I really found it inspiring to see someone with so many struggles make something of his life. Also, I found it interesting to read about Scandinavia in a realistic way (i.e., not being portrayed as some kind of utopia).