After I posted my last wip which I was working on for the #twitterartexhibit, I sat down to paint the watercolor wash and had a horrible disappointment. Some kind of gel came out of the tape I used (frog tape) which gummed up my washes and ended up ruining the entire thing. I had to get rid of it entirely, which has happened to me before, but I was under a deadline and I felt under terrible pressure to redo it. Needless to say, I am going back to my trusty blue tape from now on!
I decided to do something completely different altogether in colored pencil. I had stopped working in colored pencil for some time because I was getting a tendinitis in my elbow area, but I worked on this slowly and with a gentle grip and didn't run into that problem this time. I went back to a common theme: sunset (or in this case, dusk) on a lake.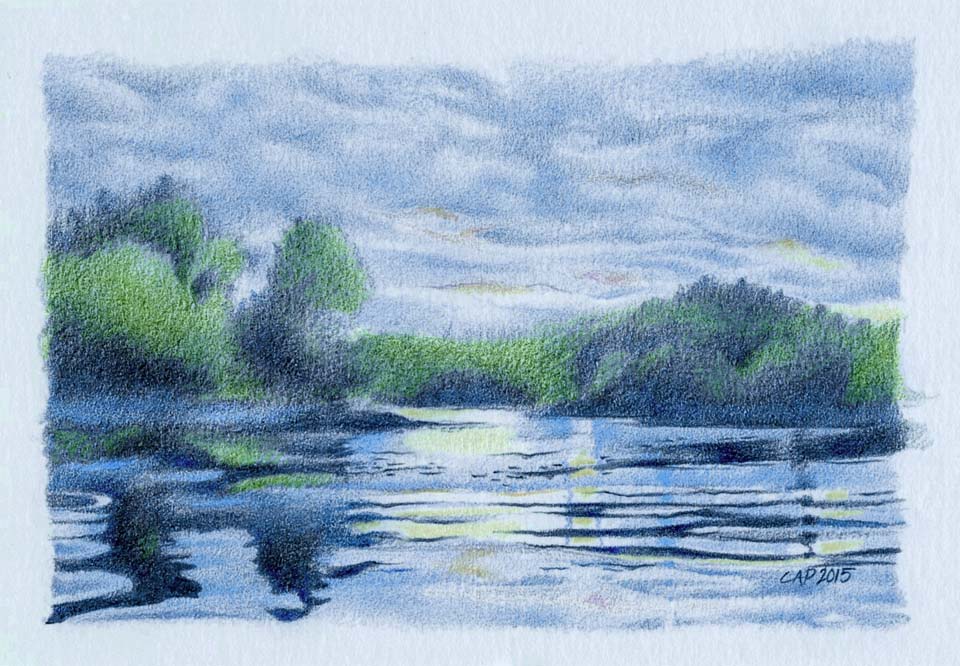 Colored pencil never seems to scan or photograph well for me and I tried my best to adjust the colors in the image to match the original. The sky has a little more pink in it, but otherwise it is fairly close. I tried to keep a sketchy feel and I am happy with my efforts.
And now my little drawing is in the mail and on its way to Moss.