Since April, I've been using the Platinum Carbon Desk Pen with Platinum Carbon black ink. I originally heard about this pen through an art facebook group that I'm a part of. I used the ink cartridge that came with the pen and I'm on my second cartridge. I haven't yet tried the converter. The ink cartridges and converters come with a small ball bearing inside to agitate the ink and prevent clumping, which is quite unique.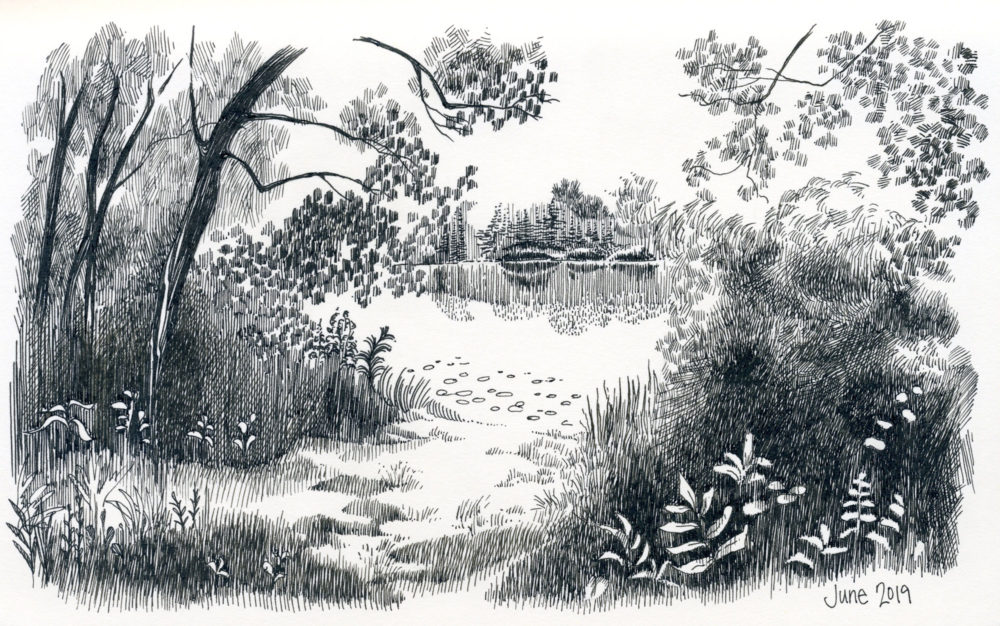 An interesting hack I found online is when Cathy Johnson used a hacksaw to remove the pointy tapered end of the pen so it would accept the cap. I personally don't mind if I can't cap the end of the pen, but I think this is a very creative solution.
All summer, I've been making pen and ink drawings of various places that I've visited for day trips and small getaways. It's been the longest time that I've worked in one medium without deviating and so far I haven't lost interest. This is the closest thing I've done to a series in fact. Some of these drawings are duds, of course, but I will have to collect my favorite ones and find an interesting way to display/publish them.
I made these drawings from photos I took at the Hopedale Fairy Walk in the Hopedale Parklands. Here is an interesting story I found about the history of the pond and how women gained the right to go swimming in it in the early 1900's. I always like to find out little tidbits about the history of the places I visit.