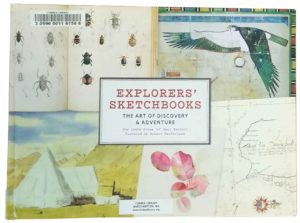 Although I have taken some memorable trips in the past, I am more of a homebody and prefer the comfort of my familiar environment. I do love to read travelogues and travel vicariously through other people's photos though.
I recently found the book Explorers' Sketchbooks: The Art of Discovery & Adventure by husband and wife Huw Lewis-Jones and Kari Hebert. It is a thick book (320 pages) and features photos of artists and sketchbook spreads from 70 different explorers' sketchbooks, logs, and nature journals.
I haven't had a chance to read all of the profiles yet, but I've been enjoying myself by reading one or two essays at a time in spare moments. I really like how there is a mix or photographs showing the book in its entirety (tattered pages, crumbling spine, etc.) as well as details of individual drawings and photos/drawings of the artists themselves. Another thing I appreciate is that the featured sketchbooks are from modern day explorers as well as those from the more distant past. Although many of the sketchbook pages shown are beautifully illustrated, there are also some utilitarian pages included with lists of figures, diagrams and penciled in comments.
I think my favorite sketchbook so far is from Edward Norton. He had some majestic mountain landscapes featured, as well as closeup studies of plants. His quote below reminds me of something that a modern day plein air sketcher would say.
"I sketched feverishly, my water freezing as fast as I put it on the paper, as also my fingers." -Edward Norton (1884-1954)
Clearly this book was on my mind when I came across some of my late great uncle's photographs while organizing through my reference photos on the computer recently. I couldn't resist making an ink and watercolor interpretation of this mountain scene as if I were on location. Unfortunately, my uncle didn't label or organize any of his photos so it is a mystery as to where he was when he took the photo.
If you can recognize this scene, or can suggest any similar books featuring the inside of sketchbooks, please leave me a comment below.