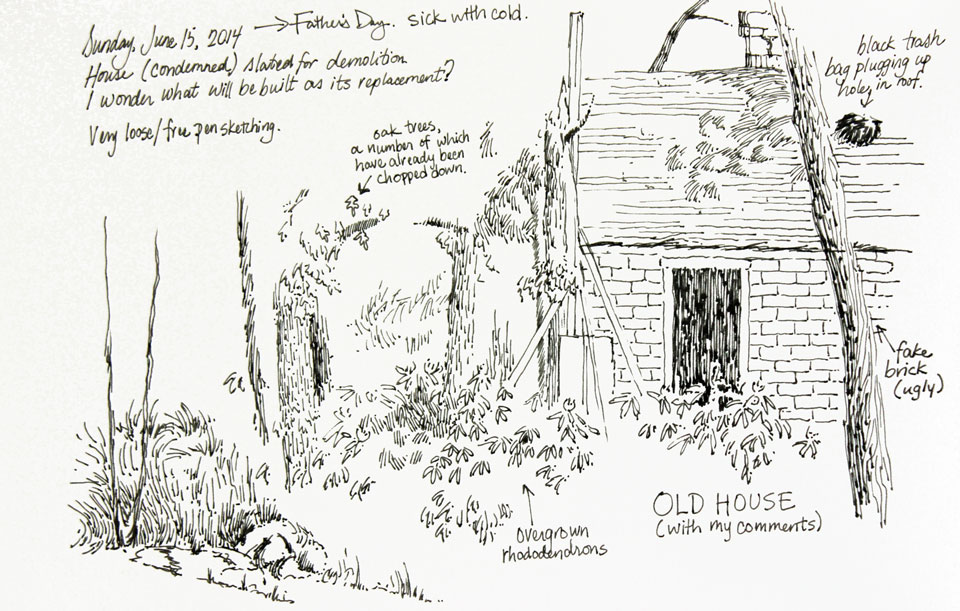 A house nearby has been condemned for many months and it about to be demolished. I sketched it from across the street, albeit from an odd angle. The doors and windows have been removed and I've seen little critters go in and out of it. Heavy equipment is sitting in the front yard, waiting to get started. I am curious to see what will be rebuilt in the location.
I've been thinking a lot lately about houses and homes, especially since I've been in this flux mode for the past few months. The project is going to be delayed by a few weeks due to some unforeseen scheduling difficulties and I am feeling so antsy to get back into my space again. Being between homes is an unsettling feeling.
Another part of me is thankful for what I have, and I am a lot luckier than a lot of other people in my situation. I'm thinking about how I am going to decorate my new space once I move back in and I have an idea of something clean, uncluttered, with a muted palette. I am having fun shopping for a new rug, lamps and a cabinet for my art supplies.
Recently I saw the new documentary called TINY. It follows a couple building a tiny house from scratch, with no prior carpentry experience. A number of other tiny house builders and residents are interviewed throughout, including Macy Miller, whose blog I follow. I really enjoyed the film, and it has gotten me thinking about my ideal living situation.
I do not think a tiny house would be feasible for me at this point in my life, as I could afford the house but not necessarily the type of land I would want, but it is something that I fantasize about from time to time. If I the opportunity, I would build a tiny house to live in and another one next to it as a studio, like Kate Johnson's.
Update: My scanner is unplugged and I don't have a good place to set it up, so I will most likely be photographing drawings out of my sketchbook for the time being, like I did above. I am also starting a larger (for me) watercolor (no ink) for my weeknight painting group. It's an unusual subject for me so I think I will wait and post my in progress photos when I am finished, in case things go majorly awry.