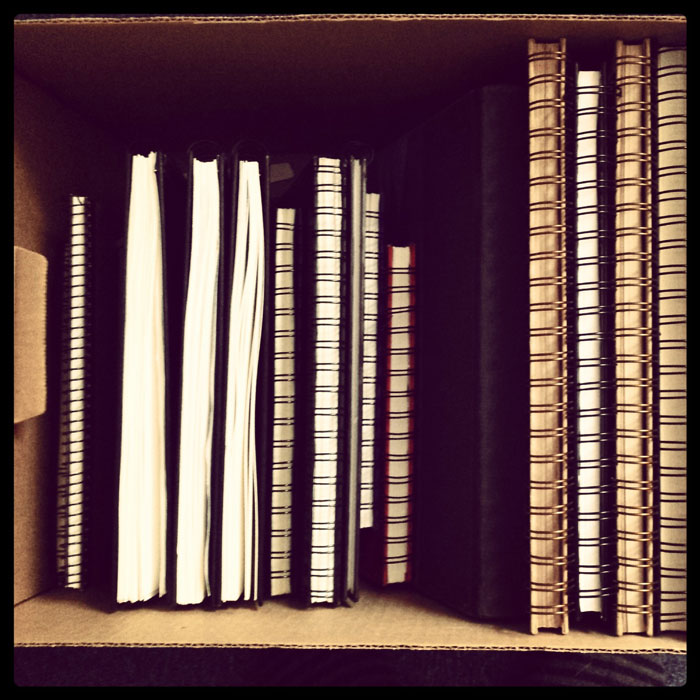 Right now I am in the process of decluttering my space and getting rid of a lot of my possessions in preparation for a move and renovation. I have a banker's box full of old sketchbooks going back all the way to 1997. I have held onto my sketchbooks and carried them from place to place for years now, but I no longer have the room for them and I've decided I must take drastic measures. I have decided to scan and/or photograph all of my sketchbooks and then dispose of the originals.
I realize that this is controversial as sketchbooks are so personal. They are really like journals in a lot of respects and for me, that line has been blurred at points. Years ago I threw out all of my old written journals and I have tinkered with the idea of getting rid of my visual journals as well. Looking through my old books, I can see how my artistic skills have improved and how silly and ridiculous my thought process often was in my younger years. I also have a visual record of exes and a string of bad memories that I would rather leave in the past.
Since I had my daughter, I have been holding onto my books so she has memories of me from my younger years. I think I've come to a compromise. By preserving my books in digital form, I am still saving a record for my daughter to browse through when she is older without holding onto the physical books. I am scanning the front and inside covers with all my random notes. I have also decided to scan the entire page without cropping out the drawings to capture all of my annotations next to the margins and the page composition.
The most important factor in my decision is my paradigm shift towards minimalism. I have been holding onto too many possessions and they have been weighing me down mentally as well as cluttering up my space.
I still think that keeping sketchbooks is a good practice and I won't stop keeping them. I still like the tactile experience of drawing on paper rather than on a tablet, etc. I just don't want to hold onto them forever.